2014 Corolla Interior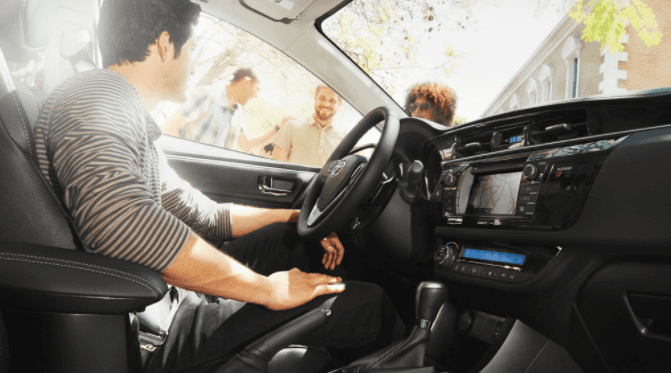 The 2014 Toyota Corolla's new more athletic look and aggressive styling will certainly turn heads in Warrenton. What might seem a little more subtle from the outside is the stylish cabin, but once you take a step inside the 2014 Toyota Corolla, you will know that is not the case. Here is what you can expect to find on the interior of your new 2014 Corolla
The 2014 Corolla is modern outside and in. The sleek cabin is streamlined for a clean, attractive design. The Corolla is incredibly spacious in both leg and head room. In fact, the Corolla's 41.4-inches of rear leg room makes for one of the most spacious backseats of any midsize sedan. The seating arrangements in the Corolla are soft, and comfortable. What's more, the seats in the Corolla S are sufficiently bolstered to keep you in place when powering around sharp corners or during daring maneuvers.
The 2014 Toyota Corolla's inviting interior makes you feel right at home with great material quality. Check out the available interior colors and upholstery below.
Corolla L fabric comes in Steel Gray
Corolla LE and LE Eco is offered in Ash, Amber, and Ivory
Corolla LE Premium and LE Eco Premium SofTex comes in Black
Corolla S Premium SofTex comes in Black
Corolla S fabric is offered in Steel Blue Mixed Media, Amber, and Black
The 2014 Corolla interior welcomes drivers into the modern world with the Entune interface and an available suite of smartphone-connected services. With Bing search, Pandora music streaming, the latest traffic updates, sports scores, and stock information, the 2014 Corolla keeps drivers connected, informed, and entertained.
Experience it for yourself. Stop by Warrenton Toyota and explore the 2014 Corolla interior for yourself. Take the Toyota Corolla for a test drive and speak with our experts to get all your questions answered. Visit Warrenton Toyota today, or call ahead for more information.
Back to Parent Page