2014 Corolla LE vs 2014 Camry LE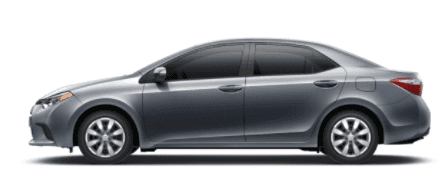 So you're in the market to buy a new car Toyota, but you can't decide between the 2014 Corolla LE or the 2014 Camry LE. At Warrenton Toyota we believe both a great options. Many of the improvements Toyota made to their models this year are reflected in both the 2014 Corolla LE and the 2014 Toyota Camry LE. Let's take a closer look, and maybe, just maybe, we can help you make a decision on which 2014 Toyota you'll be driving.
SMOOTH RIDES
In our 2014 Corolla LE Buyers Guide we mention that this year's Corolla is a smoother and quieter ride than Corolla's of the past. There are two reasons for that; a wheelbase that is nearly five inches longer and two new transmission options which reduce hum and also create smoother transitions from gear-to-gear. Well, the smoother, quieter ride is also a part of the charm of the 2014 Camry LE. This is due largely in part to sharper steering, wider tires and a suspension that is firm. No matter what you choose, the 2014 Corolla LE and the 2014 Camry LE deliver on both.
FUEL SIPPING
In our review of the the 2014 Toyota Corolla LE Eco, we highlighted what a fuel saving superstar the new Corolla can be. With 42 mpg* on the highway you'd think it was a hybrid, EV or even a diesel, but it's not. It's a traditional combustion engine that performs like a want-to-be. But the 2014 Toyota Corolla Eco isn't the only one with impressive fuel economy. The 4-cylinder 2014 Camry LE boasts an impressive 25 mpg city and 35 mpg highwa*y, while the V6 delivers a respectable 21 mpg city and 30 mpg highway*.
As you can see both the 2014 Toyota Corolla LE and 2014 Camry LE have plenty of attractive attributes and both are quite easy on the eyes – and easier to drive than models past. This comparison of the 2014 Toyota Corolla LE and the 2014 Camry LE is but a peek at the possibilities. So stop by Warrenton Toyota here in Warrenton, VA enjoy a full preview of both the 2014 Toyota Corolla LE and 2014 Camry LE. We're pretty positive you'll be happy parking either one in your driveway.
*Based on EPA mileage ratings. Use for comparison purposes only. Your mileage will vary depending on how you drive and maintain your vehicle, driving conditions and other factors.
Back to Parent Page