2016 Toyota Corolla vs 2016 Ford Focus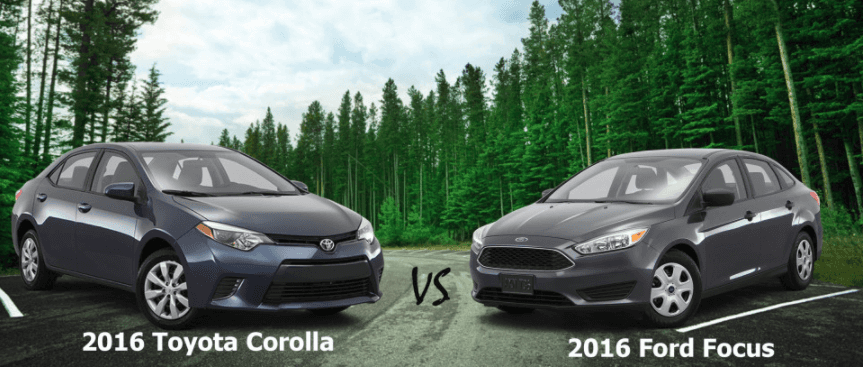 The compact sedan continues to be a popular vehicle. Two of the most popular found in and around Warrenton are the Toyota Corolla and the Ford Focus. Each of these is comfortable, roomy, and has decent features. But which one is best for those who are looking to buy a compact, but don't know which way to go?
2016 Toyota Corolla Safety
One of the top concerns compact car owners have is safety. There are a lot of bigger vehicles on the road that might miss seeing a compact like the Corolla or Focus. Standard safety features on the Corolla include whiplash-injury-lessening seats, 4-wheel disc brakes, and eight standard airbags on the Corolla S Plus. The Focus doesn't offer the safer seats, has rear drum brakes and smaller wheels, and comes with seven airbags. The Corolla also comes with ToyotaCare's roadside assistance for two years.
2016 Toyota Corolla Comfort
Compacts used to be questionable when it came to comfort. However, Warrenton car shoppers can rest easy knowing that today's compacts offer a variety of features that make them much more comfortable. The Cororlla comes standard with automatic climate control and Smart Key System. The S Plus also has a moonroof and leather-wrapped steering wheel. There is also more space in the Corolla than in the Focus.
2016 Toyota Corolla Technology
Both the Toyota Corolla S Plus and the Ford Focus SE have several tech features today's drivers and passengers can enjoy, as well as made to feel safer. While they both come standard with backup camera, the Corolla comes with LED headlights and LED daytime running lights. Corolla also comes with advanced voice recognition to access features like your contact list or playlist. In addition to this, Corolla offers Entune Premium Audio with Navigation and App Suite, HD radio, and more. The Corolla beats out the Focus in the tech category.
If you are in the Warrenton, Virginia area and would like to test drive the 2016 Toyota Corolla, speak with the experienced team at Warrenton Toyota today.
2016 Corolla Home     Corolla History     2016 Corolla Trims     2016 Corolla vs. 2016 Sentra
[inventory model="Corolla" yearmodel="2016″]
Back to Parent Page