The 2024 Toyota Camry Hybrid
The Toyota Camry Hybrid is not just another four-door sedan. It's a blueprint of efficiency, comfort, and enduring popularity. This model is renowned for its roomy interiors, impeccable build quality, and exceptional fuel efficiency. This is why it remains a top contender for anyone seeking a reliable day-to-day vehicle.
Are you interested in a 2024 Toyota Camry Hybrid for sale in Warrenton, VA? Look no further than Warrenton Toyota. The new Camry Hybrid is now available in our dealership. Feel free to reach out to learn more about this model or book a test drive appointment.
Check out the 2024 Toyota Camry Hybrid features below.
Interior Review of the 2024 Toyota Camry Hybrid
While many modern car designs lean towards minimalism, the 2024 Camry Hybrid boasts intricate details. They give a somewhat classic appearance. Noticeable features include its uniquely designed center console, the prominent infotainment display, and the diverse plastic textures. The XLE model accentuates luxury with wooden finishes. On the other hand, the XSE showcases a more athletic vibe with metallic accents.
The spacious front seats are notably plush. They ensure a comfortable journey, even on extended trips. The visibility from the driver's seat is also admirably clear. In the rear, passengers are treated to a roomy 38 inches of leg space.
Storage isn't a concern either. The trunk offers a generous 15.1 cubic feet of space. It is identical to the standard Camry sedan. This is despite having an additional battery pack. Moreover, an added advantage of the Camry over its competitors is its broad opening and easy-to-load design.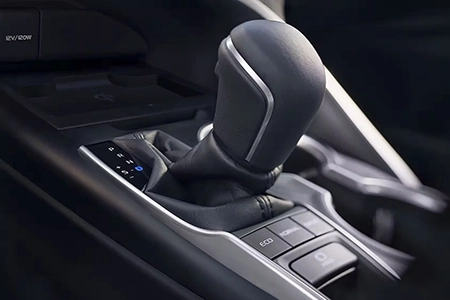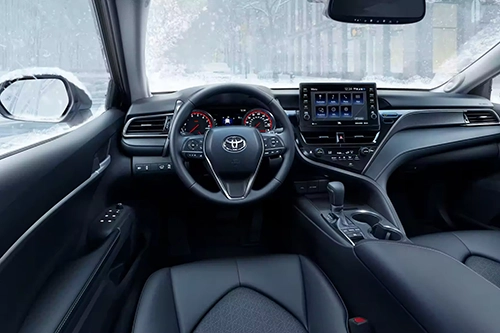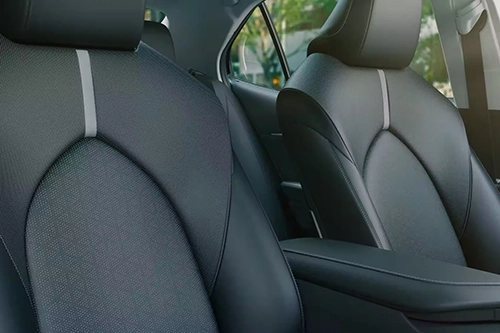 Exterior Review of the 2024 Toyota Camry Hybrid
The Camry Hybrid is indistinguishable from its standard counterpart to the untrained eye. It doesn't flaunt any unique design elements to highlight its fuel-efficient nature. Only true Camry enthusiasts can differentiate between the various trim designs.
The LE showcases a muted gray grille, while the SE prefers a deep black. The XLE goes for a bright finish, and the XSE has a glossy black grille. Notably, only the XSE offers the option of a contrasting metallic black roof. The SE Nightshade edition presents bronze-toned alloy wheels.
If you've driven a Camry before, the design of the 2024 model will look rather familiar. You'll appreciate it if you're a fan of classic vehicles.
Below are the available colors of the 2024 Camry Hybrid:
Celestial Silver Metallic with Midnight Black Metallic roof


Cavalry Blue


Predawn Gray Mica


Ice Edge


Ice Cap


Celestial Silver Metallic, Midnight Black Metallic, Reservoir Blue, Wind Chill Pearl, Supersonic Red, Wind Chill Pearl with Midnight Black Metallic roof, and Supersonic Red with Midnight Black Metallic roof. Clearly there are many colors to choose from.
Power and Performance of the 2024 Toyota Camry Hybrid
Under the Camry Hybrid sedan's hood, you can find a 2.5-liter four-cylinder engine. It delivers 176 horsepower and 163 pound-feet of torque. A motor running on a lithium-ion battery controls the electric aspect. It produces 118 horsepower and 149 pound-feet of torque.
However, one cannot simply sum these numbers to deduce the total output. This is because the engine and motor reach their maximum power at different moments. Toyota's official specs mention a combined horsepower of 208, but a cumulative torque number remains undisclosed. The car employs an automatic transmission. It funnels power exclusively to its front wheels.
While acceleration isn't typically the primary concern for hybrid buyers, the electric component in this model guarantees a brisk start. In fact, many find driving the Camry Hybrid more refreshing than its non-hybrid counterpart.
The battery operates without external charging. This makes the hybrid as convenient for daily use as its standard sibling. It also means no additional hassles, only routine maintenance and infrequent trips to refuel.
Drivers are afforded flexibility with adjustable modes. They can choose the Eco mode for daily routes or the Sport setting when seeking a more spirited drive.
Comfort is prioritized in the ride quality. It is evident even in the ostensibly sporty versions like the SE and XSE. The steering is notably smooth, making the Camry Hybrid apt for extended journeys or city drives.
Fuel efficiency is another highlight of the Camry Hybrid. The base LE model boasts an impressive 52 combined mpg (51 city, 53 highway). Other models in the range offer 46 combined mpg (44 city, 47 highway).