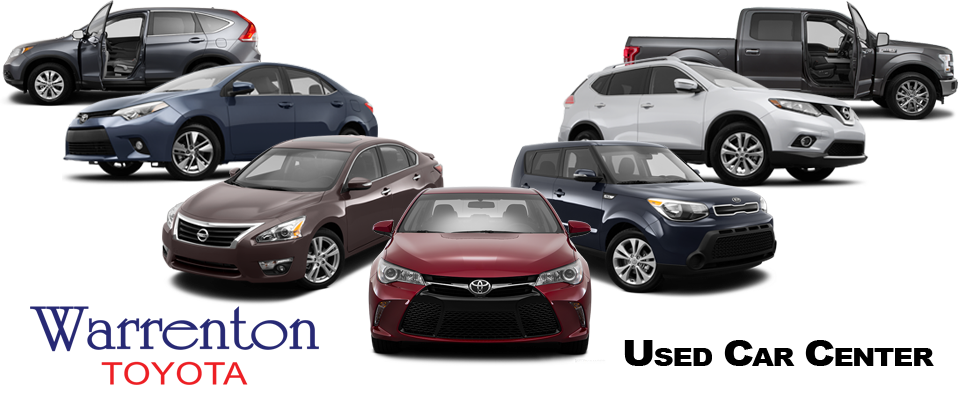 High-Quality Used Cars for Sale in Warrenton, VA
Some people live in fear of buying a pre-owned vehicle. They've heard the horror stories of unscrupulous salesmen and vehicles that fell apart the minute they were driven off the lot. While it's always a good idea to be a savvy shopper, you can set aside any reservations about buying a used vehicle when you shop the used inventory at Warrenton Toyota.
Our well-stocked Warrenton, VA, dealership has a great selection of high-quality used vehicles from a variety of manufacturers. We carry a selection that features cars, trucks, and SUVs from popular automakers like Honda, Chevrolet, and Jeep in addition to plenty of pre-owned Toyota models.
Even better, Warrenton Toyota offers special deals and incentives on models in our pre-owned inventory, so you can save money even while buying a used car at our already low prices.
Affordable Pre-Owned Cars Warrenton, VA
Every used car, truck, and SUV on our lot is priced to sell quickly so we can maintain a dynamic inventory of high-quality pre-owned vehicles to offer our customers. We even offer a selection of used models that are priced under $10,000 for those in the market for a true budget buy. (Keep in mind that when you shop at Warrenton Toyota, "low price" doesn't translate to "low quality.") Search for just what you're looking for using our search tool, which allows you to filter by make and model, price, year, mileage, and other factors.
While you're browsing our website, take a few minutes to apply for financing, value your trade to get a better idea of your budget, and calculate the monthly payments on the vehicle you want to buy. Then head over to Warrenton Toyota and speak with one of our sales representatives. They will be happy to let you explore the used cars that made your shortlist and get you behind the wheel for a test drive or two.
Shop Used Cars at Warrenton Toyota
At Warrenton Toyota, we make shopping for and purchasing a used vehicle easy. With our solid selection, our low prices and special offers, and our sales and financing team at the ready to save you as much of your hard-earned money as possible, it's likely that your search for the perfect used car at the perfect price will end here.
Visit our dealership today at 6449 Lee Highway in Warrenton. We look forward to showing you how enjoyable it can be to shop for a used vehicle with us.