The Family Friendly Toyota Prius v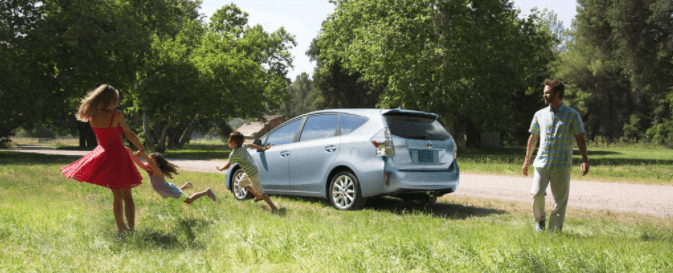 When it comes to looking for a family car, there are some qualities that cars need to meet: they need to be spacious, have a high fuel-economy rating, and look good. While finding a car that meets these qualities may be a struggle, it is not a problem with the 2014 Toyota Prius V.
As the largest among the Toyota Prius models, this compact SUV meets the demands of a highly active family. Offering not just a large cargo and passenger room, the Prius V also comes with a combined fuel economy of 42 mpg*. With this, families get the qualities they are looking for in a compact SUV in the Toyota Prius V in the sense that they can get huge savings on their purchase.
Spacious Interior
Compared to other compact SUV models, the Toyota Prius V comes with generous interior space with ample head room and comfortable seats. Thanks to its 60/40 split folding rear seats, the cargo space expands to 67.3 cubic feet from its original size of 34.3 cubic feet. Apart from a spacious interior, families will enjoy the cabin features of the SUV. Complete with several storage spaces, a center console storage box, dual glove boxes, and a utility tray, there is enough storage space that passengers can enjoy.
Hybrid Synergy Drive System
One of the notable features of the 2014 Toyota Prius V is the Hybrid Synergy Drive system wherein it is able to produce a fuel economy rating of 42 mpg. In essence, the system is the same as the one that the current Prius model carries– a 1.8-liter four-cylinder engine that produces 80 horsepower. This engine produces a lightweight transaxle with a maximum motor drive voltage reaching up to 650 volts DC.
The Toyota Prius V comes in three trim level options: Two, Three, and Five. Each level comes with its own standard and optional features. As the lowest trim option, the Prius V Two comes with a 6-speaker AM/FM/CD audio system, 6.1-inch touchscreen, remote keyless entry, five cup holders, automatic climate control, and a rearview camera. The Prius V Five model, on the other hand, adds the Entune infotainment system that comes complete with navigation system. It also features LED headlights, heated front seats, and integrated fog lights.
New features on all the 2014 Toyota Prius V models are Daytime Running Lights, driving aids, and electronic stability controls. With these new features on the Prius V, it's easy to understand why plenty have grown a liking for the model. Top it off with its savings on fuel economy and passenger comfort, there's no harm in assuming that the 2014 Toyota Prius V fits the explanation on what a modern family car is.
Check out the new 2014 Toyota Prius V at Warrenton Toyota! Call us today to schedule your test drive. 
* 2014 Prius v preliminary 44 city/ 40 highway/ 42 combined mpg estimates determined by Toyota.
Back to Parent Page