The All New Toyota Tundra Now At Warrenton Toyota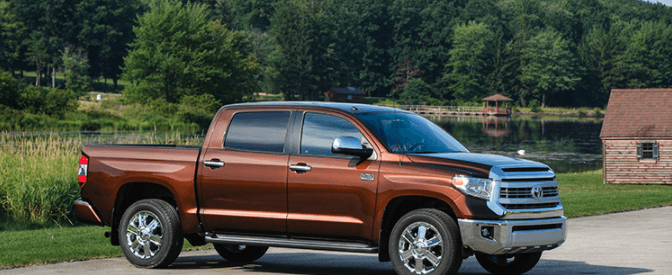 The new 2014 Tundra is making waves in the highly competitive half-ton pickup class in Virginia. It's a strong and handsome work truck but now more than ever it's becoming a popular family vehicle. There are many reasons more and more families are turning to the Tundra. The Tundra stands out amidst competition with its insatiable reputation for reliability, durability and longevity. Families are looking for a vehicle that can withstand a long family road trip, spills and stains, and haul their children safely. The Tundra provides families all of these things and more.
This reputation has positioned the Tundra to be a perfect vehicle for families. While it can still be a hard core off-road vehicle it is also great for driving around town and to and from the office. There are also a variety of Tundra models to suit the needs of families.
The full-size Tundra comes in regular cab, double cab, CrewMax and Limited trims. The CrewMax and Limited are the largest cabs and most ideal for bigger families. They are basically an extended cab with four forward-hinged doors. Bed lengths for the regular cab and double cab include a 6.5-ft and an 8-ft bed. Since the CrewMax has a large cabin it loses some space in the truck bed with only a 5.5-ft bed.
The new 2014 Tundra recognizes the fact that some people just want to drive a truck but not necessarily for the work site. That's why the 2014 Tundra Platinum edition is more urban and contemporary inside. It includes perforated black leather seats chrome and brushed metallic trim and a 12-speaker audio system.
One of the most important factors in choosing a family vehicle is safety. The 2014 Tundra comes loaded with safety features and they're all standard. The backup camera helps keep the Tundra in line and from bumping into other objects behind the truck. It also acts as a blind spot detector with its wide-angle view for those harder to see spots over the truck bed. And if you're hauling the family pontoon out to Lake Martin for the weekend you can rest easy knowing it's not going anywhere without you knowing with the backup camera.
The new 2014 Tundra comes in four engine options depending on your performance needs. They also get distinctions in cabins and interior design. The 4.0L V6 is a DOHC EFI aluminum block with 24-valve alloy head with VVT-i. This standard SR Regular and Double Cab 4×2 engine gets 270 horsepower and 278 lb-ft of torque. The next grade is a similar engine but with V8 aluminum block with 32 valve aluminum alloy head with VVT-i. This is standard on the SR and SR5 Double Cab and SR5 CrewMax. It cranks out a powerful 310 horsepower and 327 lb-ft of torque. Finally the biggest and baddest of Tundra engines is the 5.7-liter DOHC EFI V8, aluminum block with 32-valve aluminum alloy head with dual VVT-i. It comes standard on the SR Regular Cab 4×4, Limited CrewMax 4×2 and 4×4, Platinum CrewMax 4×2 and 4×4 and the newest Tundra to the family the 1794 CrewMax 4×2 and 4×4.
Depending on your needs and preferences in performance the 4x2s can tow more than the 4x4s. Weight is dropped in a two-wheel drive truck allowing it to tow more. The Tundra with the most towing capacity is the Regular Cab 4×2 equipped with a 5.7-liter V8 towing an impressive 10,400 pounds.
The six-speed automatic Tundra can get up to 60 miles per hour in just seven seconds. After examining how massive the Tundra is that's like watching a lineman run the 40 in under 4.40 seconds. The giddy up in performance can be attributed to the Tundra's chiseled design and ergonomics. The 2014 Tundra is much more aerodynamic that its predecessors making it more efficient. Cosmetic upgrades like tiny vortex generators on the mirror bases and tail lamps have helped improve the aerodynamics.
Overall the Tundra makes for a fun, hard-working and impressive truck. It's here to stay and gives the competition something to worry about from Toyota. Come see us today at Warrenton Toyota and see why the 2014 Tundra is a powerful performance and towing machine! We have an incredible selection in our giant inventory to choose from, be the first to test drive one now!
Back to Parent Page