Which of the Plethora of Colors Will You Pick for Your 2016 RAV4?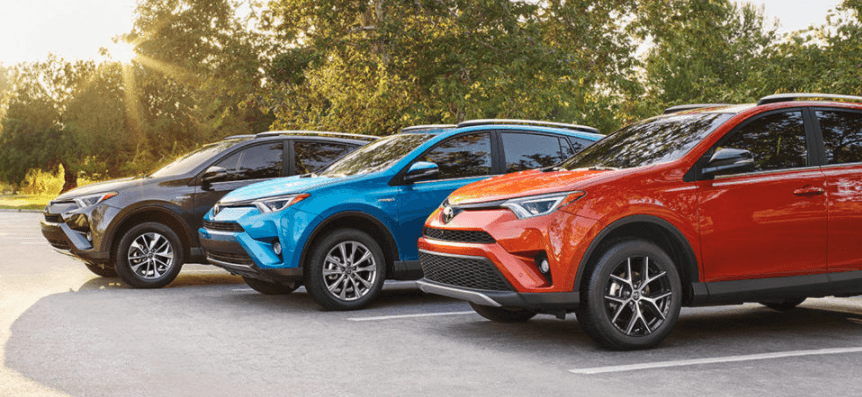 The 2016 Toyota RAV4  has been made exceptionally with sophistication, class, sporty consideration and comfort too. This is in addition to the variety of colors for the RAV4 models that are in the market dependent on the shoppers' choice. The models also have a great spec and are made for convenience. For other shoppers, convenience could also depend on the choice of color hey wish to take for the Toyota RAV4. Any choice of color however for the models comes at an added cost. The varieties of colors include Electric Storm Blue, Magnetic Gray Metallic, Blizzard Pearl, Super White, Black, Barcelona Red Metallic, Black Currant Metallic, Hot Lava, Silver Sky Metallic, S-Code Black Sand Pearl, S-Code Electric Storm Blue, S-Code Super White, Black Sand Pearl, Classic Silver Metallic. We have highlighted some of the more popular color choices below, but to find your perfect fit you should visit your local Toyota Dealership and see them in person.
Classic Silver Metallic and Black Sand Pearl
Silver is a great color not very bright and a unique one too. Black sand pearl is not completely black, but the sand pearl element makes it a bit shinier. Silver will be a great color for areas with high temperatures while the shiny appeal is also nice for many male drivers.
S-Code Electric Storm Blue and S-Code Super White
Both are a mixture of two colors; the electric storm blue appears to be a mixture of some silver and blue. The super white is a mixture of some silver or gray and white. A mixture of colors comes with choice. This could work well as a sports car because many business enthusiasts love to have colors that a formal. The models, in this case, will be perfect for ladies who love a blend of colors among any other person.
Electric Storm Blue and Magnetic Grey Metallic
The magnetic storm blue color is really a nice color for a stylish and classy person. The color brings recognition anywhere. For people who love announcing their arrival, the color says it all. The gray metallic is unique and original, a color that will make them model still look god even after long journeys on tough roads.
Barcelona Red Metallic and Black
The Barcelona red metallic fits the color for sports fun while the black is a neutral color for a model that many want to have.
Taste and preference are what will make any shopper chooses their ride. Any color with the RAV4 is a good choice. Visit Warrenton Toyota in Virginia to choose the perfect color for your new 2016 Toyota RAV4.
[inventory model="RAV4″ yearmodel="2016″]
Back to Parent Page