Toyota Lease Warrenton VA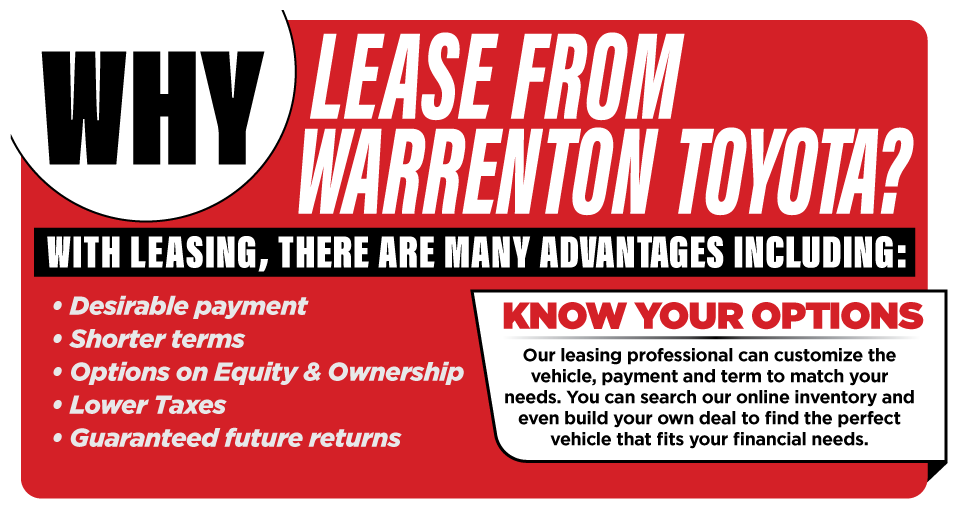 Toyota Lease Offers in Warrenton, VA
Come by Warrenton Toyota for amazing Toyota offers! Whether you've had your eye on a stylish Toyota Camry, adventurous RAV4, or family-friendly Sienna, our inventory is stocked with every new Toyota model you could want. Once you've found the vehicle of your dreams at Warrenton Toyota, you need to decide if you would prefer to buy or lease that car. It's a big decision, but one that we can help you make.
If you've never leased a vehicle before, you might be wondering exactly what makes leasing so different from buying. The main thing to keep in mind is that either way, you're going to get a great deal because you've chosen to shop the amazing selection at Warrenton Toyota. We're here to help you make smart financial decisions and to get the biggest return on your automotive investment.
Let us show you some of the differences between buying and leasing. You'll want to consider all your options before you choose your path. But at the end of the day, you'll be driving home in a vehicle you love, knowing that you got an incredible bargain.
Buying vs Leasing a Toyota
It's important to note that ownership is the main thing that separates purchasing a Toyota from leasing a Toyota model. Whether you buy your car outright with cash or finance the cost with an auto loan, the vehicle will belong to you.
With a lease, on the other hand, you're paying for use of the vehicle during the course of your lease contract – not for the vehicle itself.
Here are some other things to consider:
A lease often comes with lower monthly payments than an auto loan.
Because a leased vehicle doesn't belong to you, you won't have the freedom to customize it with accessories and aesthetic tweaks like you would if you purchased it.
Lease terms are generally shorter, so you can trade up sooner than you would with a car you own.
If you finance an auto loan, you'll have the opportunity to improve your credit score and build credit for a brighter financial future.
With a lease, you don't have to worry about what to do with the car when it's time to get a new one. Just return it to us and select your new ride.
Lease a New Toyota Near Stafford, VA
There's no right answer when it comes to buying or leasing. If your financial situation and preferences have led you to choose leasing a vehicle, then look no further at our dealership. At Warrenton Toyota, we have specialists on hand to answer your questions about leasing.
Get the Toyota lease process started today by filling out our online finance application. Browse our selection today and find the brand-new Toyota you love. Then head to our dealership in Warrenton, VA, and get ready to have the easiest and most rewarding car shopping experience of your life!