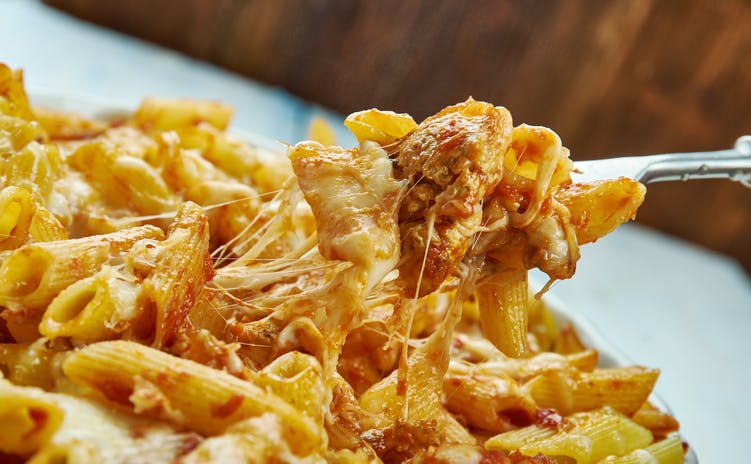 Try This Chicken Parmesan Baked Ziti
After the holidays, it can be difficult trying to find something delicious for dinner. You need something warm and hearty, but want to steer clear of anything that resembles the entrees you had over the Christmas break. Italian is always a great option, especially this Chicken Parmesan Baked Ziti.
Ingredients
12 ounces

of Ziti pasta noodles

1

pound of shredded cooked chicken

A

25-ounce jar of marinara sauce

2 cups

of shredded mozzarella cheese

3/4 cup

of grated Parmesan cheese

1/2 cup

of chopped fresh basil leaves
Cooking Instructions
You will want to begin by preheating your oven to 375°F. Take a 9×13-inch baking dish and spray generously with cooking spray. Then in a large pot of salted boiling water, you will cook the pasta until it is almost al dente.
You will drain the pasta. Return it to the pot and add both the chicken and marinara sauce. Toss all three together. You will then put half of the pasta mixture into the baking dish in an even layer. Sprinkle one cup of of the mozzarella, half cup of the Parmesan, and the entire thing of chopped basil. Add the remaining pasta on top of this cheese and basil layer, then follow it up with the remaining cup of mozzarella and fourth cup of Parmesan.
You will place the baking dish in the oven and bake for 20-25 minutes or until the cheese is melted. Take the dish out of the oven and allow to rest for 5 minutes. Your dish is then ready to serve. Garnish options can include more Parmesan, crushed red pepper flakes, or fresh basil.
You might also like: Tricks For Staying Warm At Home
Dinner in Less Than an Hour
While the taste of this dish may be the best part of this baked ziti. The prep and cook time may be a close second. The prep time for this recipe only requires 15 minutes and the cook time is 30 minutes, giving you a total of 45 minutes to prepare dinner that is filling for the entire family.
Back to Parent Page