2016 Toyota Corolla vs. 2016 Nissan Sentra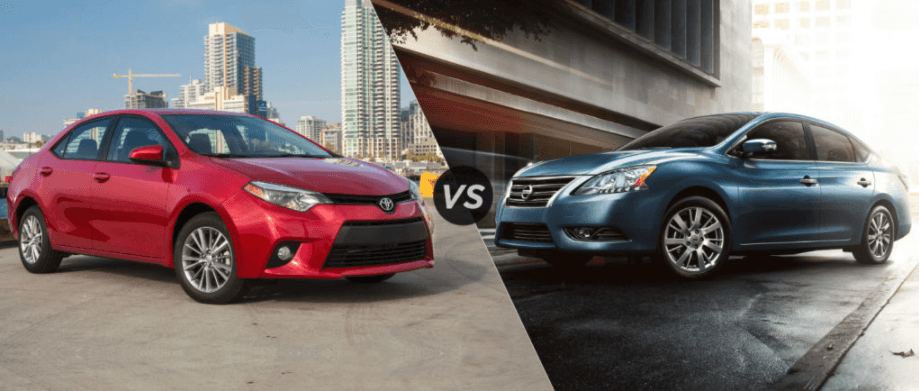 When you are searching for a compact car, there are a ton of options to choose from. Two of the most popular compact sedans are the Toyota Corolla and the Nissan Sentra. Both cars are great vehicles, but there is a reason the Toyota Corolla has become the best-selling car in history.
Exterior
When it comes to value, both the 2016 Toyota Corolla and the 2016 Nissan Sentra offer a lot of bang for your buck. On the outside, the Corolla boasts a sleek, sporty exterior, while the exterior of the Sentra is a little more conservative. The Toyota Corolla offers a quiet, smooth, comfortable ride. It also offers plenty of room for its class and is built incredibly well.
Safety
When it comes to safety, the Corolla comes out on top again. The Corolla received a 5-star overall crash test rating, while the Nissan Sentra received a mediocre 4-star rating. The Toyota Corolla is safer and fun to drive as well. What more could you ask for in a compact car?
Power
All Corolla models carry a 132-horsepower 1.8-liter four-cylinder matched to a five-speed stick, or a four-speed automatic. The standard trim is plentiful, as it comes with power windows, power locks, and power outside mirrors. There are also a ton of upgrade options on the upper trim levels. With all of these trim choices, there is definitely a Toyota Corolla that will suit everyone's needs.
The Nissan Sentra might be a worthy opponent, and both cars are a great value for your money, but in the end the 2016 Toyota Corolla is the clear champion in this class. Come over to Warrenton Toyota and see for yourself why the Toyota Corolla is the best-selling car in history. We would love to put you in one today!
2016 Corolla Home     Corolla History     2016 Corolla Trims     2016 Corolla vs. 2016 Focus
[inventory model="Corolla" limit="3″ inventory type="new"]
Back to Parent Page