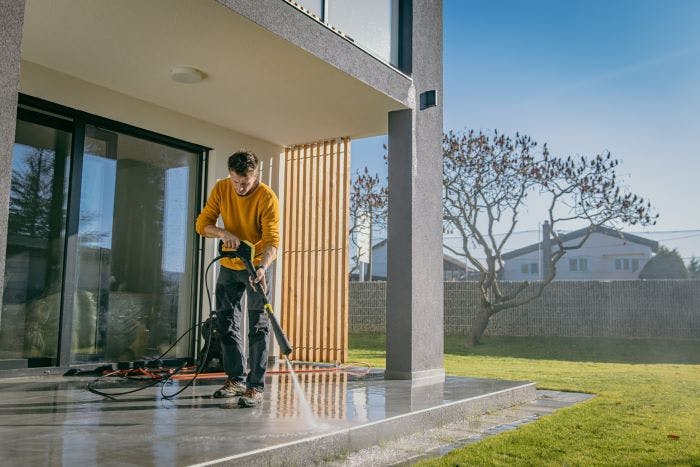 5 Home Improvements To Tackle For Spring
Spring cleaning is a time to update your abode, give your home a little more curb appeal, and get your gear ready for warm weather fun. Add these five home improvements to your task list and enjoy the results all season long.
Clean Your Grill
As soon as the weather gets warm enough, it's time to fire up the grill. Not only does grilling yield some truly scrumptious meals, but it can help you save money on cooling costs. When it's hot outside, using your indoor oven can warm your home even more. Preparing your meals on the grill can prevent that. Before you grill your first slab of ribs though, you'll need to give your grille a deep clean. Follow this detailed how-to guide to make your grill as good as new.
Pressure Wash Your Patio
If you're going to spend more time on your deck or back patio, you want the area to be clean and welcoming. One way to spruce up your patio is pressure washing it. It might seem intimidating to operate a pressure washer but when you rent your pressure washer most rental centers will give you a tutorial on properly using the machine. Pressure washing can remove years of grime from your patio.
Re-paint Your Front Door
You will be surprised by the impact a fresh coat of paint can have on your front door. It can do a lot to increase the curb appeal of your home. Not only that, fresh paint can help protect your wood door from sun-damage this summer. Pick a fun fresh color and use it to give your entryway a facelift.
Repair Damaged Screens
Damaged screens can let bugs and mosquitoes into your home through windows, screen doors, or screened in patios. To fully enjoy the spring and summer air, repair the screens around your home using this tutorial.
You might also like: Grow An Indoor Herb Garden
Switch the Direction of Your Ceiling Fans
To get the most out of your ceiling fan, switch the direction that it turns. During the cooler months the blades should turn clockwise to keep air circulating in your home. During the summer however, they should turn counter-clockwise to push cool air downward. You can switch the direction by flipping the the switch located on the base of the fan.
Back to Parent Page