Cool Off With An Easy Icebox Cake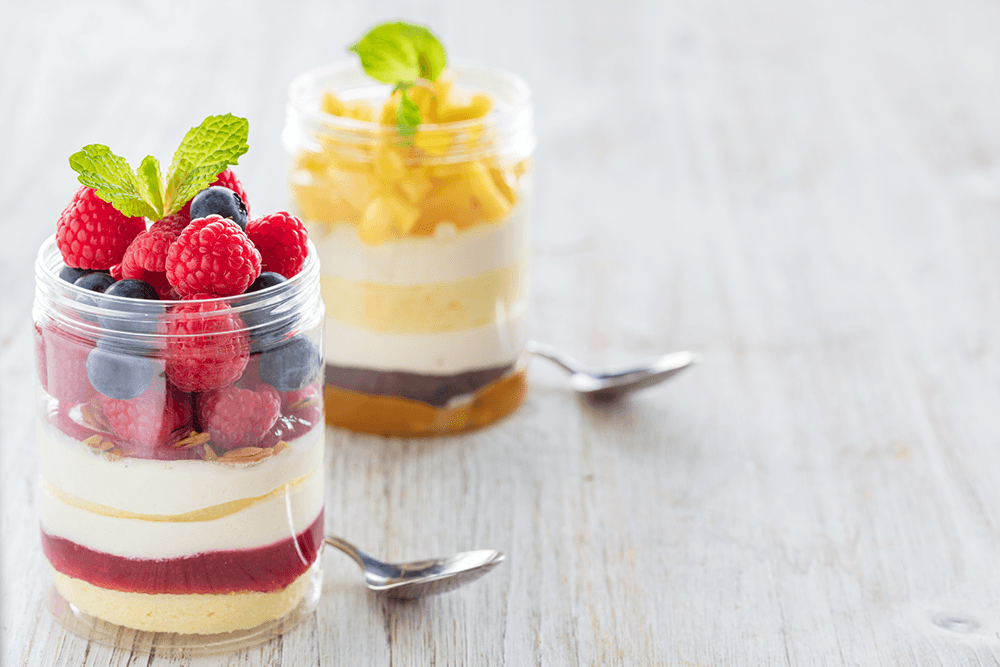 With warm weather comes every attempt to cool down. It's hot and you've had all the ice cream you can take. Why not try out one of these retro icebox cakes for something new! These are easy, no-bake cakes so you don't have to turn on the oven. You can make as many as you'd like using different flavor combinations, and they are sure to be a cool hit.
Mixed Berry Icebox Shortcakes
This is a great icebox cake for individuals. You can adjust the recipe to fit your needs and have as many cakes as you like. Here is how to make it.
2/3 cup of heavy cream
2/3 cup of sour cream
1/4 cup of light corn syrup
1 vanilla bean, split lengthwise and seeds scraped
1 1/4 cups of fresh raspberries
1 1/4 cups of fresh blueberries
1 1/4 cups of chopped strawberries
1/4 cup of sugar
6 round shortbread cookies, crushed
6 8-ounce mason jars with lids
Beat together the heavy cream, sour cream, and vanilla beans until you have medium-stiff peaks. Spoon the mixture into a large resealable plastic back or piping bag. Put 6 raspberries to the side for decorating later. Toss together the blueberries, strawberries, sugar, and remaining raspberries. Let the berry mixture sit for about 30 minutes at room temperature, tossing occasionally until it is juicy and the sugar is dissolved. In a mason jar, pipe one layer of vanilla cream, top with two tablespoons of crushed cookies, and add two tablespoons of berries. Do not mix the layers and be sure they are visible and touch the side of the glass. Continue with one more set of layers. Top off with a layer of vanilla cream and secure the mason jar lid. Refrigerate for 8-12 hours. To serve, remove lid and top with a reserved raspberry.
You might also like: The All-New 2021 Toyota Venza
Mini Brooklyn Blackout Icebox Cake
This is a super chocolaty icebox cake, and you won't need the oven. Chocolate lovers can have their cake and eat it, too.
3/4 cup heavy cream
1/4 cup confectioners' sugar
1 cup prepared chocolate pudding
42 chocolate wafer cookies
1/4 cup chocolate syrup
A 6-cup jumbo muffin pan
6 squares of plastic wrap large enough to line each muffin cup
Prep your muffin pan by lining each cup with a piece of plastic wrap. Whip together the heavy cream and confectioners' sugar until you have stiff peaks. Gently fold in the pudding until combined. Add 1 tablespoon of the pudding mixture to each cup. Break up 2 cookies and layer them on top of the pudding mixture evenly. Repeat these layers two more times. Cover each cup with the overhanging plastic wrap and refrigerate for 8-12 hours. Use remaining cookies for decorating when ready to serve.
From fresh berries to decedent chocolate, there are so many flavor options for icebox cakes. Pick your favorite traditional combination, or get creative and try something new.
Back to Parent Page