Elite Customer Care at Warrenton Toyota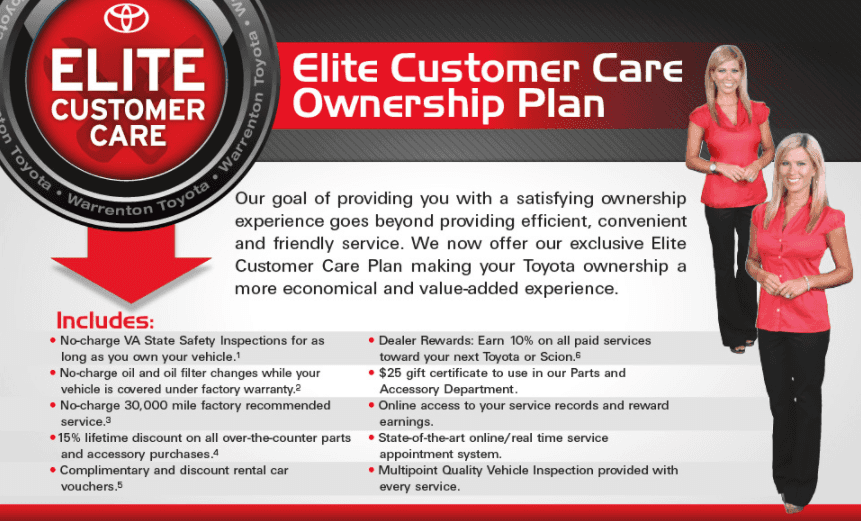 Drivers in Warrenton don't have to worry about the expensive price of car maintenance anymore thanks to Elite Customer Care. This premium-quality service includes a comprehensive vehicle care plan as well as attention to detail and the best customer service you can find in Virginia.
ToyotaCare
To start off your new car experience at Warrenton Toyota, you will get ToyotaCare, which comes with every single Toyota vehicle. This is a maintenance and roadside assistance plan that is free with your vehicle purchase and lasts 25,000 miles or 2 years. It includes regular maintenance, such as inspecting and adjusting fluid levels, rotating tires, doing a multipoint vehicle inspection, and replacing the oil filter and engine oil. The included roadside assistance is offered 24/7 to help you in case of a breakdown.
New Vehicles
For the best possible care and convenience with your Toyota, opt for the New Vehicle Customer Care Ownership Plan. With this plan, you can take advantage of a state-of-the-art service appointment system and a free Multipoint Quality Vehicle Inspection every time your vehicle is serviced. You also get easy access to reward earnings and service records online and $25 from the Parts and Accessories Department. For the entire time you own your vehicle, you won't have to pay for a Virginia State Safety Inspection. You also get oil as well as oil filter changes during your factory warranty period and factory recommended service at 30,000 miles at no charge. Other bonuses include 10 percent back on all of your paid services that you can use for your next vehicle, discount and complimentary rental car vouchers, and 15 percent off for life on over-the-counter accessories and parts.
Reward Dollars
The rewards dollars are easy to use and check. Simply give the cashier your Rewards key tag, and you will get 10 percent back from qualifying purchases. Track your progress online, and make your way to a great deal on your next Toyota.
To experience Elite Customer Care and excellent customer service, find your dream car at Warrenton, Toyota, in Warrenton, Virginia.
Back to Parent Page