All-New Tacoma Coming to Warrenton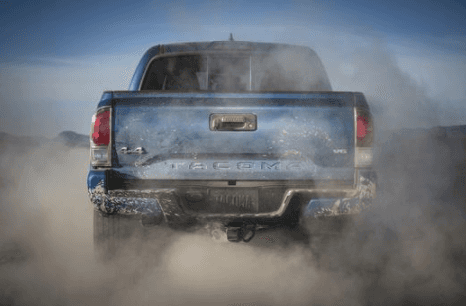 Residents of Warrenton, Virginia, have a brand-new Tacoma to look forward to in the near future. The 2016 Toyota Tacoma features a range of updates to make this popular compact pickup truck even more versatile, powerful, and comfortable.
New Engine Options
One of the biggest updates to the 2016 Tacoma is the new engine choice, a 3.5-liter V6 that takes advantage of direct injection in addition to port fuel injection in an innovative Toyota system known as D-4S. All models come with a 6-speed transmission, whether you pick the new V6 or the old 4-cylinder, but you can now get a 6-speed manual with the V6 engine.
Brand-New Cabin
Toyota did more than just add new engines to the Tacoma; it updated almost everything. The cabin is refreshed and packed with great new technology, including the optional Qi wireless charging station for your mobile devices. You can even get Blind Spot Monitor and Push Button Start, both of which are also new for the Tacoma.
Standard GoPro Mount
Toyota understands that Tacoma drivers enjoy adventure and may want to document their journeys every step of the way. That is why starting with the all-new Tacoma, every single model has a standard GoPro mount that lets you safely record your travels, whether they take you off-road to mountains, forests, or beaches.
Exterior Toughness
While many of the new features aren't instantly noticeable, the exterior redesign of the Tacoma is. The new front end, chiseled hood, and daytime running lights (which are LED) all add to a tough, attractive appearance. There is even an integrated spoiler on the new locking tailgate as well as the ability to slowly lower the tailgate to prevent damage and add convenience.
Whether you want to drive a current Tacoma model or learn all you can about the new 2016 Toyota Tacoma, the team at Warrenton Toyota in Warrenton, Virginia, are there to help you.
Back to Parent Page