Find Out Which Toyotas Are Made In America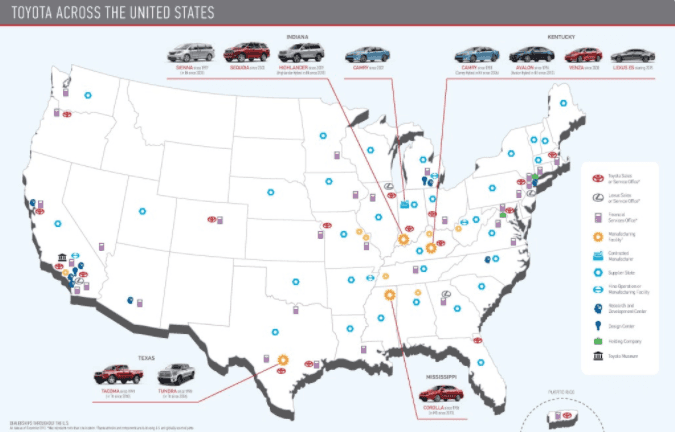 In the car industry, 'Made in America' is more important than 'Made by US Manufacturer.' Studies have shown that this is a known fact. The reasons for which include it protects American jobs, supports the American economy, and keeps American dollars at home. With these reasons, it is no longer a surprise why car manufacturers have invested much of their money in establishing a US-based manufacturing facility. Considering Toyota is among the top selling vehicles of all time, it is only fair that they would manufacture their models in the US. So which Toyota models are built in America?
As of this writing, Toyota manufactures 12 customer favorite vehicles in their North American facilities. Among the list of the vehicles manufactured in these plants include Avalon, Corolla, Camry, Highlander, RAV4, Matrix, Sienna, Tundra, Sequoia, Tacoma, Venaz, and the Lexus RX350. Their car manufacturing facilities are based in locations such as Kentucky, Indiana, Canada, Mississippi, California, and Texas.
Toyota Motor Manufacturing Kentucky, Inc. (TMMK)
Established in 1986, Toyota Motor Manufacturing, Kentucky, Inc. was the first wholly owned US-based Toyota manufacturing plant. To date, it is the largest manufacturing facility located outside Japan. The models that are being manufactured in this plant include the 2013 Avalon, Avalon Hybrid Camry, Camry Hybrid, and Venza. The plant was able to manufacture 504,213 vehicles in 2013.
Toyota Motor Manufacturing Indiana, Inc. (TMMI)
Located in Gibson County, Indiana, the Toyota Motor Manufacturing Indiana Inc. was established in 1996 solely to manufacture full-size pickup trucks for the American market. To date, the facility has moved to manufacturing SUVs such as the Highlander, Sequoia, and Sienna. In 2013, the facility was able to produce up to 299,820 vehicles.
Toyota Motor Manufacturing Mississippi (TMMMS)
Located in Blue Springs, Mississippi, the TMMMS was originally planned to manufacture the Toyota Highlander in 2010. Unfortunately, the car manufacturer decided to move production to the Indiana plant. In 2011, the facility was opened to produce the best selling Corolla. In 2013 alone, the facility was able to produce 158,647 vehicles.
Toyota Motor Manufacturing Texas, Inc. (TMMTX)
In 2003, Toyota was able to acquire a new facility in San Antonio, Texas. This facility focuses in manufacturing Toyota full-size pickup trucks like the Tacoma and Tundra. In 2013, they were able to produce 228,983 vehicles.
Read more Toyota news and updates by following our Warrenton Toyota blog.
Back to Parent Page