Explore the Spacious Interior of the 2017 Toyota Corolla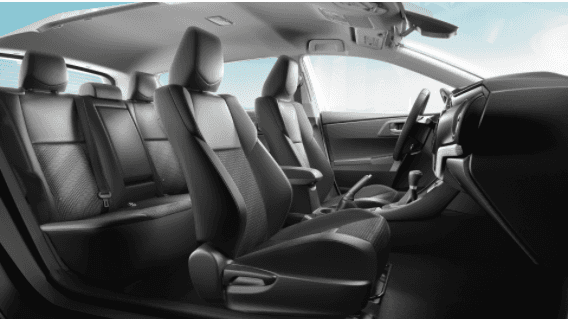 The new 2017 Toyota Corolla includes a lot of updates. Aside from the surprising amount of space inside, there are a lot of new features that make it a very good investment for this coming year as well. This is the 50th anniversary of the Corolla, so we are also offering a special edition that is in a class of its own.
More Safety in the 2017 Toyota Corolla
The interior of the new Corolla is especially spacious, but also very safe. There are many features that come standard with the new model and make it worth the cost. It comes with many features such as the Toyota Safety Sense, the Pre-Collision System with Pedestrian Detection, Lane Departure Alert, Automatic High Beams, and the Dynamic Radar Cruise Control. All of these features come standard on the base level 2017 model to ensure that you are safe on the road no matter how much you put into your new car.
Interior Design
The interior of the new Corolla has been redesigned to impress even the pickiest of car buyers. The dashboard is filled with flowing lines made with premium materials. The piano-black accents add to the sophisticated look alone with a large touch-screen that displays all you need as far as infotainment goes. The cargo space in the trunk is very large, and the back seat is split 60/40 to enable expansion room available. The comfort and convenience of the interior gets even better with the auto climate control, which allows you to set the temperature to a certain degree as your car adjusts to it accordingly.
Technology
The technology available on the interior has been far advanced as well. Navigate with ease by using Entune Audio Plus with the Connected Navigation App, or parallel park right with use of the backup camera. It even includes a voice recognition feature controlled from the steering wheel along with other features and controls. Take advantage of the latest in automobile technology in the new 2017 Corolla.
Test Drive a New Corolla
Visit us at Warrenton Corolla today to test drive your own, and find out if it's the right car for you. We specialize in Toyota care, so let us take care of any vehicle needs you may have! We are always willing to help.
[inventory model="Corolla" type="new"]
Back to Parent Page