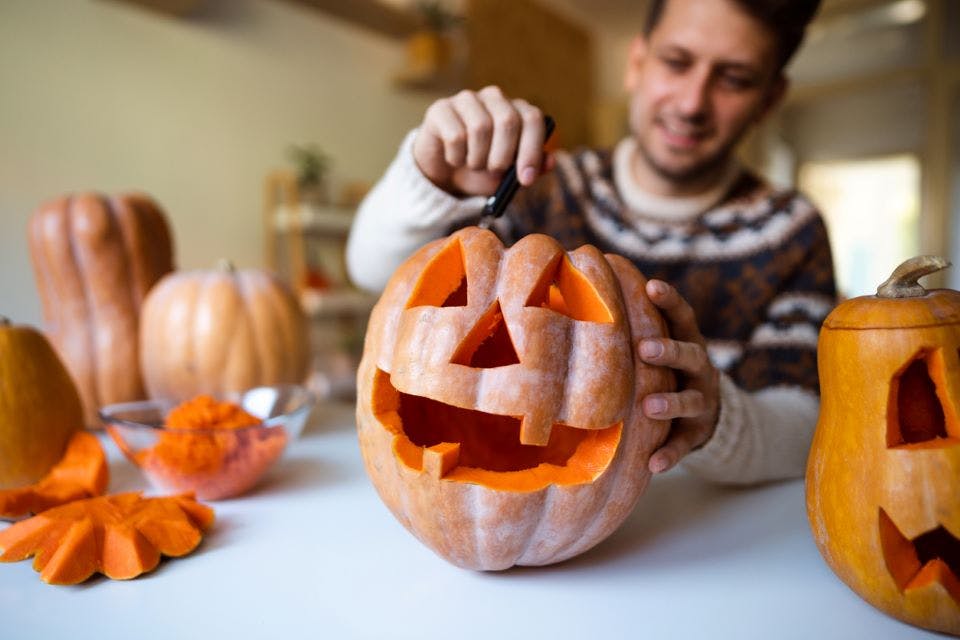 Pumpkin Carvings Tips And Tricks
If you've ever struggled to get your jack-o-lantern just right for Halloween night, you'll appreciate these pumpkin carving tips from Good Housekeeping.
Tip 1: Pick the Right Pumpkin
Spooky costumes, spider webs, and leaves on the ground aren't nearly as synonymous with Halloween revelry as jack-o-lanterns and making the perfect one starts with picking the right pumpkin. Look for a pumpkin that is a deep rich orange color that will tell you its just the right level of ripeness. You will also want a medium to large pumpkin with enough surface area to allow you to carve whatever you want. Finally, pick a pumpkin that has a flat bottom so it won't roll off your porch when you put it on display.
Tip 2: Cut a Hole in the Bottom of Your Pumpkin
You're probably used to seeing jack-o-lanterns with a hole cut in the top to scrape out the guts and lower a candle into. Well, according to pumpkin carving pro Michael Natiello, you should cut the "lid" of your pumpkin from the bottom not the top. This will keep the sides of your pumpkin sturdy and prevent them from caving in later.
Tip 3: Scoop Out All of the Pulp
When you clean out the guts of your pumpkin try not to leave anything behind. You can use a special pumpkin claw or an ice-cream scoop to scrap out the pulp. Once you've cleaned out the bulk of the pulp, go back and scrap the sides until the hull is only about 1 1/4 inch thick. This will make it easier to cut through the shell when it's time to start carving.
Tip 4: Create a Paper Version of Your Design First
Don't start carving right away. Instead, sketch out your design with a pencil and paper first. Then you can use the paper as a stencil or a reference while you work. You can also opt to purchase a pumpkin carving kit that will have a stenciled design included.
You might also like: Enjoy Mouth-Watering Meals At El Agave
Tip 5: Start with Rough Cuts
You don't have to get the design perfect from the very first cut. You can cut out large chunks first then go back and clean up the edges later.
If you need a new set of wheels to shuttle you and your little ones to the pumpkin patch, check out our online inventory. Have fun carving your pumpkin.
Disclaimer: The stock image is being used for illustrative purposes only, and it is not a direct representation of the business, recipe, or activity listed. Any person depicted in the stock image is a model.
Back to Parent Page