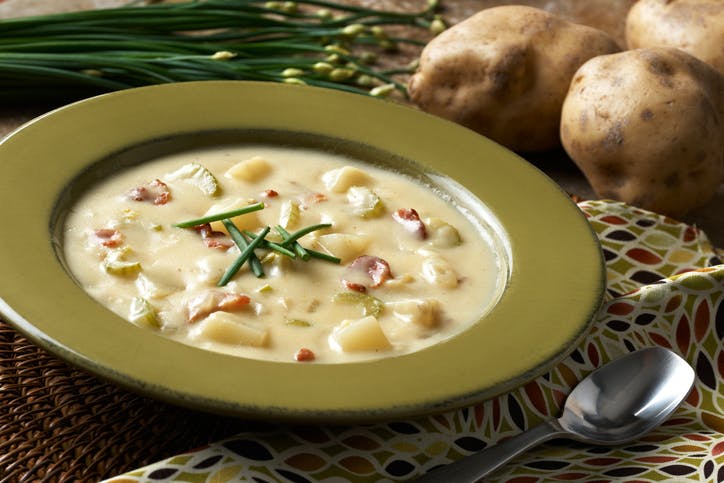 Creamy Potato Soup Recipe
Fall means that soup season is finally back! Cozy up with your family and friends this season with this potato soup recipe from Gimme Some Oven. This recipe is creamy, comforting, and best shared with loved ones around the table. Grab your spoon and come along to find out how to make this delicious soup!
What You Will Need
For this creamy potato soup, you will need bacon, onion and garlic, flour, chicken stalk, milk, potatoes, cheese, sour cream or Greek Yogurt, salt, and pepper.
How to Make The Soup
Start by cooking the bacon by dicing and sautéing it until crispy, then transfer it to a paper towel-lined plate to dry. Reserve a few tablespoons of the bacon grease. Next, sauté your veggies in the bacon grease until soft and stir in your flour to make a roux. Add in your broth, milk, and potatoes, stirring to ensure nothing burns, and cook until the potatoes are soft. Finally stir in your cheese, sour cream or Greek yogurt, and bacon bits!
What to Serve with Potato Soup
Crackers with soup is a given, but what if you want to elevate your meal? Gimme Some Oven has some suggestions for those who want to bring their potato soup to the next level. Try pairing your soup with a salad, Gimmie Some Oven suggests two, the Everyday Salad and Our Family's Favorite Salad. You could also pair the comfy starch with roasted brussels sprouts or roasted asparagus. An option your littles might prefer is a mixed berry or winter fruit salad. Whatever you go with, Gimmie Some Oven has the recipes linked at the bottom of her page.
You might also like: Enjoy Mouth-Watering Meals At El Agave
Potato Soup Variations
If you want to mix up how you make this potato soup, try making it vegetarian by getting rid of the bacon. Take it a step further and make it a vegan soup by using olive oil in place of butter. If you need it to be gluten free, use cornstarch in place of flour or puree half the soup to make it thicker without having to worry about any dry ingredients! To make the soup lighter, do the same puree trick, use skim milk, or turkey bacon.
For a fun twist, add in seasonings. Try taco, Italian, Cajun, or Za'atar seasoning. Use a bunch of different potatoes to provide a fun mix as well. You can also make the soup more healthy by adding some extra veggies, like celery or cauliflower.
Back to Parent Page