Toyota Sienna's History Shows How It Became Everyone's Favorite Minivan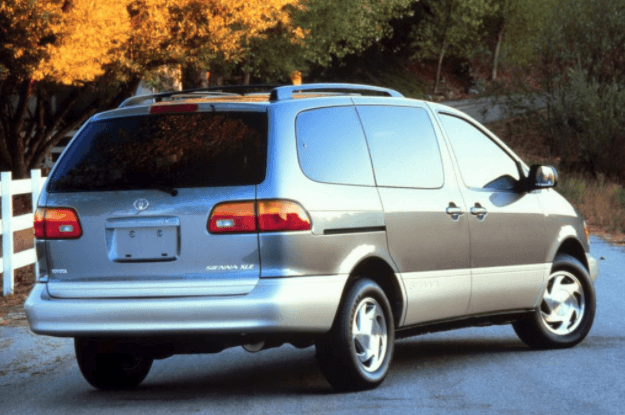 Before the 1998 Toyota Sienna arrived, Toyota offered the Previa, a minivan that was known for its egg shape, rear-wheel drive, and mid-engine. By contrast, the Sienna had none of that unusual styling, front-wheel drive, and an easy-to-access interior layout that was similar to segment leaders. The Sienna's underpinnings have always been the same as the Camry as a way to reduce costs while offering two unique vehicles.
Initial Sienna Power and More
When the Sienna hit the market, it had the same V6 engine as the Camry of the same model year: a 194-horsepower 3-liter V6. In a few years, this engine was replaced with a 210-horsepower version that was more flexible and smoother. While the original Siennas were just as reliable as the models today, they weren't yet segment leaders. If you don't like the large size of current minivans, you may like a used Sienna from the first generation, however, since they were smaller.
Redesigning the Sienna
The 2004 Sienna saw a range of improvements, including a larger overall size and a more powerful engine. The 3.3-liter V6 worked with a 5-speed automatic and generated 215 or 230 horsepower. In 2007, it was replaced by a 3.5-liter with 266 horsepower to help drivers drive and pass on the highway. The Sienna was still making a name for itself, and you may want to stick to the XLE or Limited trims from these model years. Those versions of the Toyota Sienna had a power-folding third-row seat, power tailgate, and power sliding doors. Even at this time, you could get parking sensors in the front and rear.
If you want to see a Sienna that looks very familiar, then check out the third generation that began with the 2011 model year. You will recognize its styling that is more exciting than the stereotypical minivan and all the modern amenities. Drive to Warrenton Toyota in Warrenton, Virginia, to explore the current Sienna or check out one of the used models from recent years.
Back to Parent Page