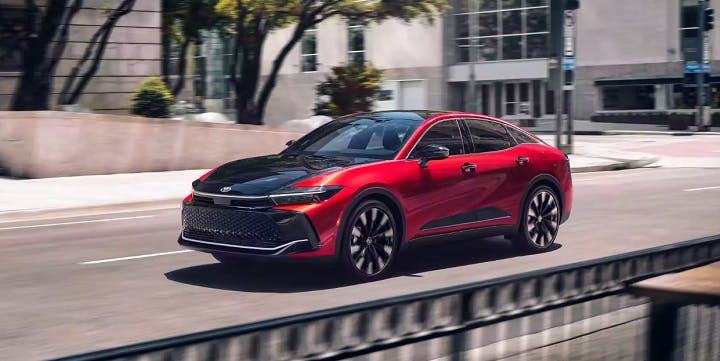 The Toyota Crown Is The Car For You!
Bring your vehicle into the future with the new 2023 Toyota Crown. The picture of innovation, enjoy cutting-edge design, a hybrid engine, technology to make your heart sore, and more. Allow yourself these simple luxuries when looking for your next car upgrade. No matter what you are looking for in your next vehicle, the Toyota Crown is the car for you.
Refined Design
The 2023 Toyota Crown takes the best designs from other vehicles and makes them it's own. The styling of a premium sedan, the flowing curves of a sportscar, and the elevated cabin of an SUV bringing the sedan into a whole new direction. Make the most of driving with the 2023 Toyota Crown.
Plus, customize with paint options like Supersonic Red with Black bi-tone, Black, Magnetic Grey Metallic, Heavy Metal, Supersonic Red, Oxygen White, Oxygen White with Black bi-tone, Bronze Age with Black bi-tone, and Heavy Metal with Black bi-tone. No matter what color you chose, the new Toyota Crown model will have you feeling good.
Hybrid Magic
Enjoy the brand new Hybrid MAX Powertrain now available with the 2023 Toyota Crown. This advanced system is the combination of the Toyota Crown's 2.4L turbocharged engine and electric motors. Combined, the engine generates 340 net horsepower with 400 lb.-ft. of torque. Plus, the dynamic placement of the electric motor between the engine and the transmission lets power be transferred without lag, resulting in zero to 60 acceleration in 5.7 seconds.
Technology Innovation
Toyota prioritized technology in the interior for maximum driver efficiency and comfort. Enjoy the Human Machine Interface that utilizes the Toyota Crown's 12.3-inch Toyota Audio Multimedia Touchscreen that uses touch and audio activation. Or, utilize the Available Advanced Park to make parking in tight spots a breeze. Plus, enjoy many other technology perks when you purchase the 2023 Toyota Crown.
You might also like: Delicious Chicken Marinades To Try
Toyota Audio Multimedia
The Toyota Audio Multimedia Touchscreen enhances the driver's experience. Easy to use, all your technology is right at your fingertips. With the Toyota Audio Multimedia Touchscreen, enjoy Wireless Apple CarPlay, Wireless Android Audio, JBL Premium Audio System, and SiriusXM. No matter what you use, the Toyota Audio Multimedia Touchscreen makes listing nice and easy.
Back to Parent Page