How The Toyota RAV4 Stacks Up To The Competition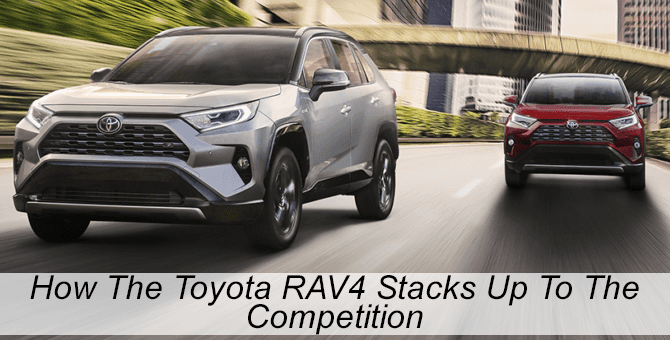 If you're in the market for an outstanding compact SUV that appeals to all types of drivers, then the Toyota RAV4 deserves your attention. Packed with features and loaded up with value, the 2020 RAV4 can be as luxurious as you like – and just as adept off the road as it is on! Before you're won over completely by the RAV4, you may be wondering how it compares to other popular vehicles that share this red-hot class. We'll take a look below at the RAV4 versus the Honda CR-V. We think you're going to love what the Toyota model has to offer over and above its rival.
RAV4 or CR-V?
It may not surprise you that two compact SUVs from the likes of Toyota and Honda are such solid contenders. These brands are kings in the automotive world, after all, and they produce vehicles that reflect quality, value, and overall excellence. Choosing one, then, is more about what matters most to you as a driver. Let's look closer at how the RAV4 and the CR-V compare in a few key areas.
Reliability. The Toyota RAV4 edges out the CR-V in the realm of predicted reliability, according to J.D. Power rankings. This is a big deal when you're looking to get the most out of your automotive investment in terms of quality and dependability.
Power. The 2020 RAV4 is powered by a capable 2.5L 4-cylinder engine that generates 203 horsepower. If you were to choose a 2020 CR-V with the base engine, however, you'd have to make do with just 184 horsepower. This makes a big difference when it comes to acceleration on the highway.
Fuel economy. Efficiency is a big deal for compact SUV drivers, as it helps you continue to pile up savings over time. The 2020 RAV4 has some truly stellar mpg ratings, and opting for the available all-wheel drive barely makes a difference.
You might also like: Buying Vs. Leasing At Warrenton Toyota
Find Your RAV4 at Warrenton Toyota
There's much more to discover about the Toyota RAV4, and we can't wait to help you find your favorite for an amazing deal at Warrenton Toyota! Our dealership is fully stocked with all the latest and greatest Toyota models, plus a huge selection of high-quality used vehicles priced just right. We invite you to click over to our online inventory now and start browsing. We can't wait to help you find your perfect pick for a bargain you're sure to love!
Back to Parent Page