DIY Minimalist Holiday Decor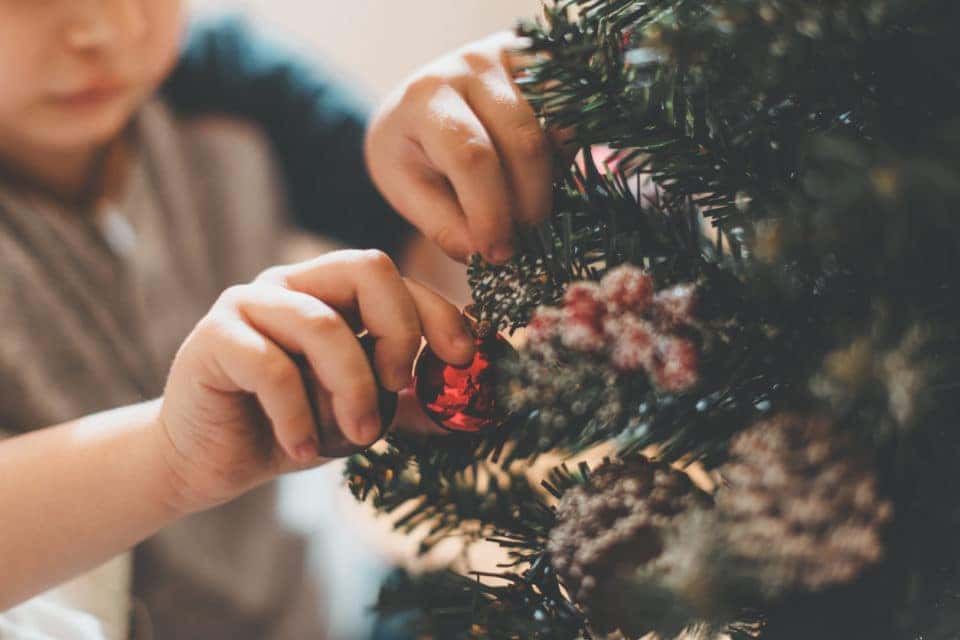 It's time to start thinking about decking your halls – but this year, consider taking a new approach. Festive touches aren't all inflatable Santas and twinkly lights. Add some graceful, understated elegance to your scheme with a few DIY decorations that are simple to make and beautiful to look at.
Giant DIY Christmas Wreath
If you're looking for an eye-catching focal point for your mantel, a large wall, or any other space that needs adornment, this massive wreath fits the bill. But despite its size, there's nothing overdone about this beautifully simplistic accent piece. Refreshingly simple and perfectly festive, the wreath is also easy to make with just a few basic supplies. A gold spray-painted hula hoop serves as the frame, while leafy branches are secured all around it with twine. Choose a holiday-inspired word or message and spell it out in the center of your wreath by tying letter cutouts to the frame.
DIY Geometric Ornaments
If your tree needs an upgrade or you're looking for a quick way to fill those empty branches, these simple, classy ornaments will do nicely. You'll need just three things to make these easy ornaments: string, scissors, and an assortment of geometric brass jewelry connectors. The latter can be purchased online or at craft stores. Circles, triangles, and squares work well, but choose your own favorite shapes and mix and match them to suit your sense of style.
Festive Candle Holder
It doesn't get much simpler than this lovely candle holder – especially considering its big visual impact. Select a pretty, clear glass bottle, insert an evergreen clipping, and fill the bottle with water to cover the greenery. Then insert a taper candle, shaving away the base until it fits the mouth of the bottle. Make several and line them up along your holiday table or across your mantel for a sophisticated candlelit display.
You might also like: Three Pumpkin Recipes To Try This Fall
Make Your Holidays Bright With a New Car
Ready to have the best holiday ever? Give yourself the gift of a new car from Warrenton Toyota. We stock the complete lineup of all your favorite models at low prices and with exciting savings that are a gift in and of themselves! Browse our online inventory to find your favorite, and then visit us for a test drive and an amazing offer!
Back to Parent Page