Impress Your Family With A Perfectly-Cooked Turkey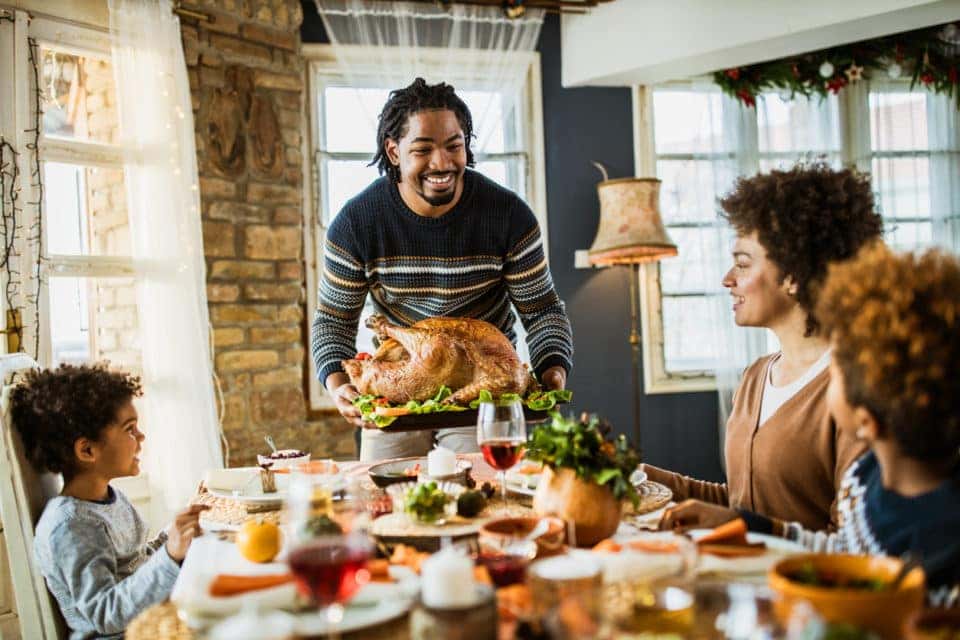 Whether this is your first rodeo with cooking a Thanksgiving turkey or your tenth, it's always helpful to have few pointers heading into your adventure with the bird.
Turkey Prep
Before we get into tips on how to cook your turkey, you'll first need to purchase one. You should plan on having about a pound of turkey for everyone who will be eating it, and more if you want a generous amount of leftovers. With many Thanksgiving dinners being scaled down to just close family this year, you may not need a very big turkey at all.
A few days before Thanksgiving, you'll need to put your turkey in the refrigerator to thaw. If by Thursday your bird still isn't fully thawed, run it under cool, running water until it's completely thawed.
Season And Truss
After your turkey is completely thawed, rub it with kosher salt and fresh-cracked pepper inside and out, and add any aromatics, spices, or herbs you'd like. Popular choices include garlic, onion, thyme, rosemary, oranges, apples, carrots, and celery. Then, tie the legs together or truss it completely, and place it on the rack inside of the roasting pan breast-side up. Start heating the oven up to 425 degrees.
Butter Basting
While the oven is heating, baste the bird all over with melted butter. Alternatively, you can place pats of butter under the skin of the turkey – or both! There's never a thing as too much butter. You can also flavor your butter with a bit of maple syrup, mustard, or juice to add extra flavor.
Roasty Toasty
Once the oven has heated up, place the rule in the oven and cook it at 425 for 15 to 20 minutes to give it some good initial color, then reduce the temperature down to 325 degrees, basting every half hour with butter and/or pan juices. The only safe way to tell when a turkey is done is by checking the temperature; a thermometer inserted into the thickets part of the thigh should read 165 degrees. The total time will vary by size, but an 8-12 pound bird will roast for about 2 1/2 to 3 hours.
You might also like: See What Toyota Camry Trim Best Fits You
Rest And Serve
Give the turkey about 15 to 20 minutes to rest, covered in foil, before serving. Slice the turkey up into generous portions and enjoy!
Back to Parent Page