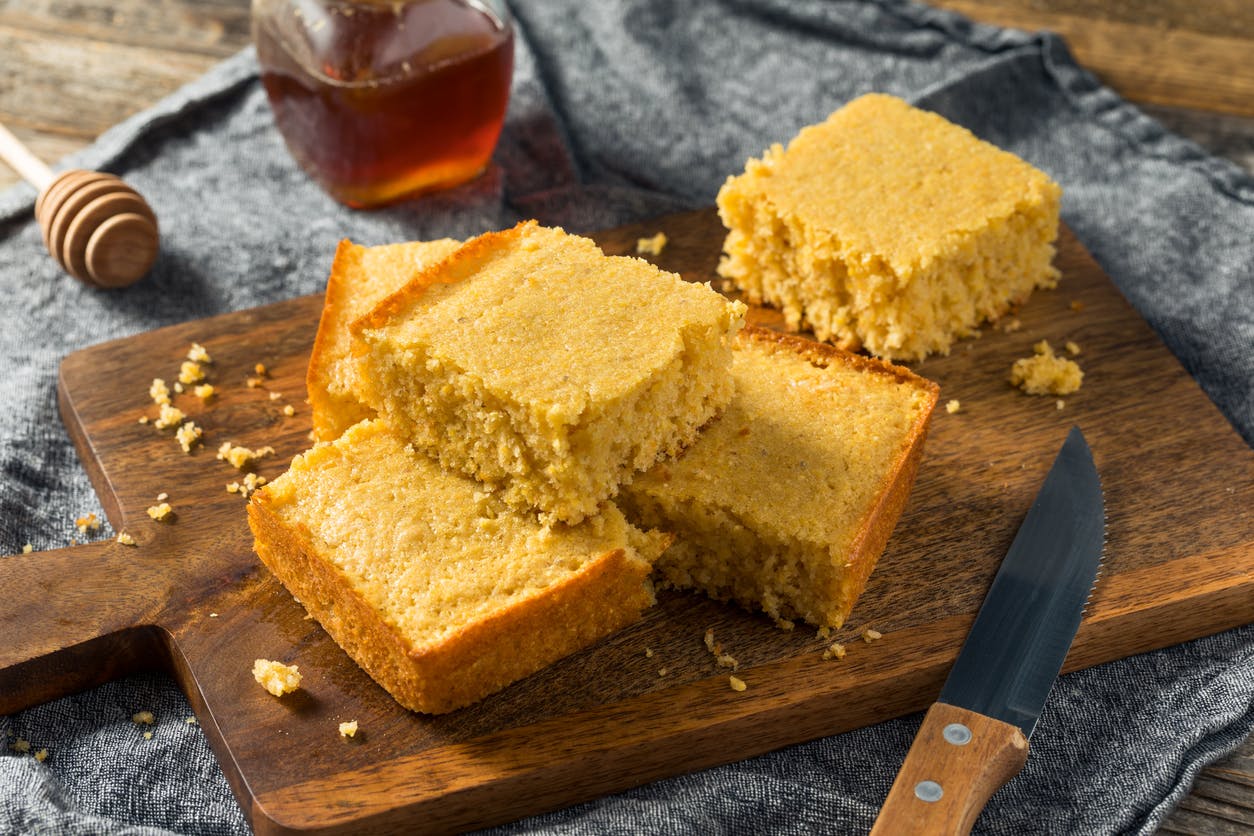 This Cornbread Recipe Won't Disappoint
.vce-row-container .vcv-lozad {display: none}
.vce-row-container .vcv-lozad {display: none}
Cornbread is the cornerstone of Southern cuisines thanks to its crisp, golden crust and its fluffy and warm center. It helps that cornbread is easy to make and will set you back only 25 minutes or so. Did you know that cornbread traces its roots back thousands of years and was popular during the American Civil War because it was cheap and could be made into many different forms?
If you have a hankering for some homemade cornbread, then you should try out this recipe that just needs simple ingredients to make. Many cornbread recipes need buttermilk or creamed corn, but this recipe only needs flour and cornmeal.
Ingredients
(Yield: Serves 8-10)
All-Purpose Flour (1 cup) - This allows the bread to rise and gives it a spongy, caky consistency.
Yellow Cornmeal (1 cup) - Gives the bread a golden-brown color.
Granulated Sugar (2/3 cup) - Adds a touch of sweetness.
Salt (1 teaspoon)
Baking powder (3 1/2) - Helps the dough rise and expand.
Neutral oil or melted butter (1/3 cup) - Gives the bread a moist, flaky, rich flavor.
Egg (1) - Binds everything together.
Milk (1 cup)
You might also like: Ring In The New Year With This Tasty Desserts
Directions
Grease a 9-inch round cake pan, and set it aside.
Preheat the oven to 400 degrees.
Mix the flour, cornmeal, sugar, salt, and baking powder in a medium mixing bowl. Whisk to combine.
Make a hole in the center of your dry ingredients and add the oil or butter, milk, and egg. Stir to combine together until there are but a few lumps remaining.
Pour the battery into the cake pan and bake for 20-25 minutes until the top of the cornbread is a deep, golden brown. Insert a toothpick inside the cornbread. If it comes out clean, then it is good to go.
You can top your cornbread with a variety of ingredients, including honey, butter, honey butter, jelly, or maple cream. You can serve your cornbread with all kinds of meals, but most people prefer to have cornbread with chili or beans; however, it goes well with many things.
You can make this cornbread gluten-free by swapping out the all-purpose flour for a gluten-free baking blend.
Back to Parent Page